The gross motor skills (e.g. sitting and walking) of children and young people with cerebral palsy can be categorised into 5 different levels using a tool called the Gross Motor Function Classification System (GMFCS).
GMFCS looks at movements such as sitting and walking. It is helpful because it provides families and clinicians with:
a clear description of a child's current motor function, and
an idea of what equipment or mobility aids a child may need in the future, e.g. crutches, walking frames or wheelchairs.
Generally, a child or young person over the age of 5 years will not improve their GMFCS level so, if for example, a child is classified at a Level IV at the age of 6 then it is likely that they will need to use a mobility device throughout their life.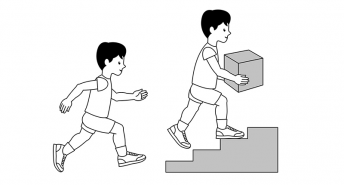 GMFCS Level I
Can walk indoors and outdoors and climb stairs without using hands for support
Can perform usual activities such as running and jumping
Has decreased speed, balance and coordination.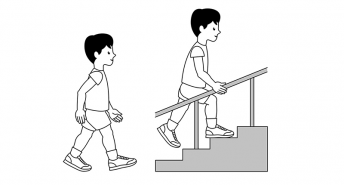 GMFCS Level II
Has the ability to walk indoors and outdoors and climb stairs with a railing
Has difficulty with uneven surfaces, inclines or in crowds
Has only minimal ability to run or jump.
GMFCS Level III
Walks with assistive mobility devices indoors and outdoors on level surfaces
May be able to climb stairs using a railing
May propel a manual wheelchair (may require assistance for long distances or uneven surfaces).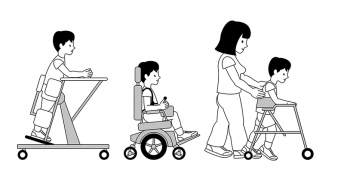 GMFCS Level IV
Walking ability severely limited even with assistive devices
Uses wheelchairs most of the time and may propel their own power wheelchair
May participate in standing transfers.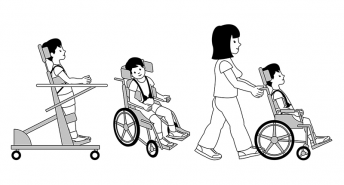 GMFCS Level V
Has physical impairments that restrict voluntary control of movement and the ability to maintain head and neck position against gravity
Is impaired in all areas of motor function
Cannot sit or stand independently, even with adaptive equipment
Cannot independently walk, though may be able to use powered mobility.
---
GMFCS descriptors copyright © Palisano et al. (1997) Dev Med Child Neurol 39:214-23 CanChild: www.canchild.ca
Illustrations copyright © Kerr Graham, Bill Reid and Adrienne Harvey,
The Royal Children's Hospital, Melbourne